Raffle Quilt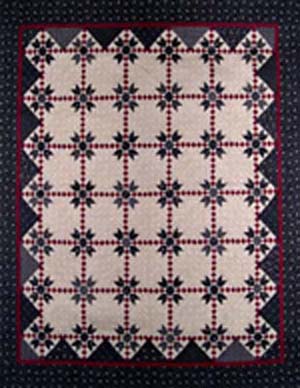 Every two years, guild members create a magnificent raffle quilt to raise funds to support guild programs. In addition to creating the quilt, members sell a minimum of 12 tickets each (or they purchase those chances in hopes of winning it themselves). Members also staff various opportunities to exhibit the quilt and sell tickets. Since virtually all members participate in this venture, the effort is minimal—many hands make light work—and the results are impressive.
One ticket - $1.00
Six tickets - $5.00
2012 Raffle Quilt - Sherman's March
The 2012 Raffle Quilt was created using the Civil War reproduction pattern, Sherman's March, and fabrics from Bonnie Blue Quilts.
"Sherman's March to the Sea" began in Atlanta and ended in Savannah where General Sherman presented the city of Savannah as a Christmas present to President Lincoln. During the march Sherman applied the scorched earth policy of war and ordered his troops to burn fields, kill livestock, destroy train depots, mills and warehouses that lay in his path. The broken railroad rails that the troops wrapped around tree trunks became known as "Sherman's Neckties." The red path in the Sherman's March quilt represents the fiery path that Sherman's soldiers took from Atlanta and ended in Georgia. The black represents the charred remains of the cities and farms he left behind.
Member Information